Spider Pig
Can I swing from a web?... No I cant, I'm a pig...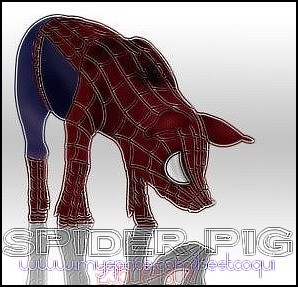 Top Friends
About Me
MY NAME IS EDWIN, THEY CALL ME SPIDER PIG
I LOVE SPIDER PIG
I WAS A SEN10R IN EDISON HIGH
I JUST GRADUATED FROM HIGH SCHOOL
I GO TO THE UNIVERSITY OF PUERTO RICO - RIO PIEDRAS CAMPUS
IDK IF STUDYING ARCHITECTURE OR COMMUNICATION, BUT I AM DEFFINETELY DOUBLING IT WITH FOREIGN LANGUAGE
I SPEAK SPANISH BECAUSE I AM PUERTORICAN
I SAY HOLA TO EVERYONE ALL THE TIME, I THINK THATS MY MOST FAMOUS QUOTE. I CAN SAY HOLA AND THEY WILL SAY RIGHT AWAY;
-"IS THAT EDWIN?"
I AM VIRGO 09-22-92
I AM LEFTY
I LOVE LANGUAGES
I KNOW HOW TO SAY HI LIKE IN 14 DIFFERENT LANGUAGES
I LOVE NEW YORK CITY
I WANT TO LIVE IN A CONDO @ DOWNTOWN WHERE I CAN HAVE A VIEW TO THE HUDSON RIVER, THE STATUE OF LIBERTY, THE EMPIRE STATE AND PERHAPS THE NEW FREEDOM TOWER
I AM NOT SURE WHAT I AM GONNA DO WITH MY LIFE
I DONT KNOW WHAT WILL HAPPEN WITH ME IN THE FUTURE
JUST LETTING LIFE GUIDE ME
THAT IS ALL FOR NOW
GRACIAS!
| | |
| --- | --- |
| Name | Spider Pig |
| Gender | Male |
| Age | 15 |
| Location | Newark, NJ |
| Ethnicity | Hispanic |
| Interested in | Women |
| Status | Single |
| | |
| --- | --- |
| Music | spider pig, the simpsons theme song, rbd, belinda, regueaton, pop latino, pop |
| Movies | matilda, the simpsons, star wars i, star wars ii, star wars iii, star wars iv, star wars v, star wars vi, disney channel movies, matrix, lord of the rings, and other cool movies |
| TV | the simpsons, rebelde, disney channel, hgtv |
| Quotes | AL QUE NO LE GUSTE QUE APAGUE EL TELEVISOR O SI NO QUE BREGUE CON ESO. AHORA ES QUE ES RANKAKANKAN. PERO QUE CARAJO ES ESA COSA. FUMATE UN PEO. TIRATE DE UN BONSAI. SI CREISTES QUE LO HABIAS VISTO TODO, TE EQUIVOCASTES. BRUJERIA. YOU SEE, THAT'S WHY YOU HAVE NO FRIENDS. BUA JAJAJAJA. SACRIFICE. HALLOWEEN IS COMING. WHATEVER. AUCH!! NOOOO!!! Y ESTA, FUERA DEL AIRE, LO PERDIMOS!!! ME FUI A CABALLO Y ME VINE A PIE. PUDRETE. HELLO, HI, HOLA. TIRALO AL MEDIO COMAY TIRALO AL MEDIO. Prefiero pasa 100 anos de mi vida sufriendo, y pasar la eternidad gozando, a tener q vivir gozando, y pasar la eternidad sufriendo. Aunque no se puede cambiar el pasado, se puede influenciar el futuro...Hello, deja el show, ME CAGO EN NA'. I AM 100% NOT INTERESTED., I AM NOT HANDICCAPED, I AM JUST LAZY. JAJA. RRRRRRRRRRRRRRR!!!! COJE UN PAPEL, PINTA UN OCEANO, Y HUNDETE! LIFE IS LIKE A DICK, WHEN THINGS GET HARD, JUST FUCK THEM. I WISH YOU A MERRY CHRISTMAS... FRIENDS ARE LIKE CONDOMS, THEY PROTECT YOU WHEN THINGS GET HARD.SSSSSSSS, TE DECLARO LA GUERRA IARAS, TE DECLARO LA GUE-RRA! SE TE FUE EL ORGULLO PAL SUELO...Helloha! |
Contact Me
Statistics
Recent Photos